Search results
results found for ""
Description of the EmStat4M including main specifications and practical limitations.
Document with more detailed specifications including module pin-out.
The MethodSCRIPT scripting language is designed to improve the flexibility of the PalmSens potentiostat and galvanostat devices for OEM users. It allows users to start measurements with arguments that are similar to the arguments in PSTrace. PalmSens provides libraries and examples for handling low level communication and generating scripts for MethodSCRIPT devices such as the EmStat Pico and EmStat4.
Learn how to use a multi-channel potentiostat as a polypotentiostat, so you can use multiple working electrodes in the same cell sharing one reference and counter electrode.
This article will explain how to update the software of your EmStat Pico Development Board, Sensit BT or Sensit Smart using PSTrace. ...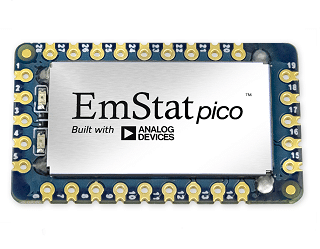 Bugfix: i2c_write and i2c_read incorrect reference to var a Added support for Sensit BT onboard measurement storage Changed filesystem for EmStat Pico's using SD cards for stora...