Easy and versatile
PSTrace is designed to be productive immediately after installation, without going through a long learning period. It has three modes; the Scientific mode which allows you to run all the techniques our instruments have to offer, and two dedicated modes for Corrosion analysis and the Analytical Mode. The Analytical Mode is designed for use with (bio)sensors and allows you to do concentration determinations. Extensive help files and prompts guide the user through a typical analysis.
Making it easy for simple measurements doesn't mean we compromised on advanced electrochemistry. To create a complex series of experiments a scripting window can be used. The Scripting window allows for automated batch measurements and analysis. The interactive plot and a 'head-up-display' of peaks when hovering over the peak location made also the post-measurement part of electrochemistry just quicker and easier. But if you feel more comfortable using your own spreadsheets, you can use the one-click export to Excel. Or you can export your data to Origin or Matlab.
Minimum system requirements
Windows 7 or later (32-bit or 64-bit)
1 gigahertz (GHz) or faster 32-bit (x86) or 64-bit (x64) processor
2 GB RAM (32-bit) or 4 GB RAM (64-bit)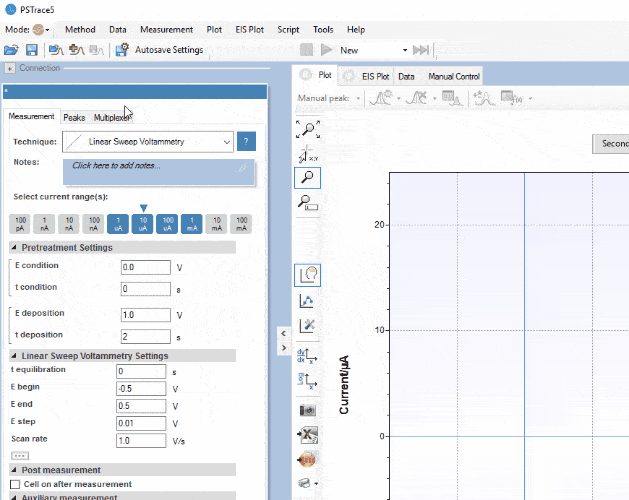 Setting up your measurement
The method editor provides instant feedback on parameters that are either invalid or do not match the instruments capabilities:
Measurement data
All measurement data and curves are stored in a single .pssession file. Peaks are detected automatically or can be marked by hand. Exporting data to Excel including generation of a native Excel graph is a matter of a single click.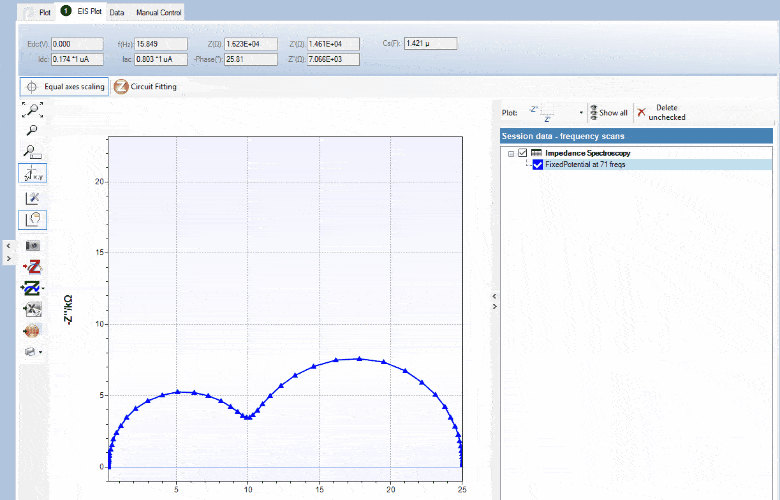 Equivalent Circuit Fitting tool integrated in PSTrace
PSTrace comes standard with a new tool window for Equivalent Circuit Fitting. Drawing your circuit and fitting your data has never been easier. The interface allows you to quickly draw or change the circuit design. The circuit and fitted data are automatically saved with your .pssession data file.
The circuit editor can be used in different modes;
Edit mode; draw the circuit or type CDC circuit
Fit mode; fit the EIS data on the circuit
Simulation mode; run simulations on circuits
Analytical mode
This mode provides a template for all the functions to perform analysis on unknown samples or calibration of electrodes. Quantitative analysis according to the standard addition method or a calibration curve is performed in a few easy steps. Even multiple analytes are possible. The results window then provides the platform to complete the analysis, and calculate the results and statistical variations of them. The Analytical mode is perfect for everyone, who wants to save time during their quantitative analysis.
Corrosion mode
This mode is made to convert your data quickly into physical properties.  It comprises a straight forward modeling package with a dedicated tab to describe the physical properties of the material such as surface area. This mode supports using the techniques, Potentiostatic, EIS, Linear and Cyclic Polarization and Potentiometry/OCP. Interacting with the plot and results is focused to corrosion analysis, so Tafel Plots and the common corrosion modelling functions such as the Butler-Volmer equation are done with a few clicks.
Scripting
You can create automated complex experiments with this highly versatile component-rich control for automated and batch analysis. In the scripting window, you can easily arrange your building blocks for automated saving, blank subtraction, peripheral control, peak data saving and many more to create your own method. Automation of all your methods leads to more stable results and frees up user time for other tasks. Complex electrochemical procedures such as pseudo-polarography can be simplified with higher functions such as deposition potential override.