PalmSens4
Compact, versatile and powerful
Potentiostat / Galvanostat / Impedance Analyzer
FRA / EIS: 10 μHz up to  1 MHz
9 current ranges: 100 pA to 10 mA
18-bit resolution
Bluetooth or USB connection
BiPot stands for BiPotentiostat, which is a potentiostat with two working electrodes. A bipotentiostat can use two working electrodes, one reference and one counter in the same cell. The two working electrodes can be operated and monitored exactly at the same time. Working electrode 1 performs any of the supported techniques (see below), while working electrode 2 can either have its own constant potential or follow the working electrode 1's potential. In the latter case a potential offset can be added.
The resistance between the reference electrode and the double layer of the specimen can cause a significant potential drop, decreasing the applied potential where it is required. The module provides positive feedback to compensate for the IR drop between the Reference electrode and the outside of the double layer of the electrochemical cell.
Ready for shipment next day
Description
Our flagship instrument, the PalmSens4, is a USB and battery powered Potentiostat, Galvanostat, and optional a Frequency Response Analyser (FRA) for Electrochemical Impedance Spectroscopy (EIS). The PalmSens4 has a large potential range (-5V to 5V or -10V to 10V) and current range (100 pA to 10 mA) with a high resolution and low noise. The economical PalmSens4 is a complete laboratory instrument but its compact and rugged design makes it also ideal for field work. Connecting via Bluetooth guarantees a perfectly floating measurement.
Configurable
PalmSens4 comes in different configurations:
±5 V or ±10 V potential range
EIS/FRA with maximum frequency of 100 kHz or 1 MHz
optional BiPotentiostat module for second WE
optional iR-Compensation
Standard included
Rugged carrying case
High quality, double shielded cell cable with
2 mm banana connectors for Working, Counter, Reference electrode and Ground
Crocodile clips
Dummy cell
USB cable
Manual and Quick Start document
PSTrace software for Windows
Always a backup
Every PalmSens4 is equipped with an internal storage of 8 GB. This means all your measurements
*
can automatically be saved on-board as backup.
Measurements can be browsed and transferred to the PC easily using the
PSTrace
software for Windows.
Accessories
Accessories for PalmSens4
PalmSens4 on-board the International Space Station
The PalmSens4 potentiostat is extremely robust and reliable and was selected for NASA expedition 63. It was launched into space on 9 April 2020 being part of a scientific experiment on-board the International Space Station.
Read more
Specifications
General
configuration
PS4.F#.05
PS4.F#.10
dc-potential range
±5 V
 ±10 V
compliance voltage
±10 V
maximum current
±30 mA (typical)
Potentiostat (controlled potential mode)
applied dc-potential resolution
76.3 µV (18-bit)
applied potential accuracy
≤0.1% ±1 mV offset
current ranges
100 pA to 10 mA (9 ranges)
current accuracy
< 0.2% of current
±10 pA ±0.1% of range
measured current resolution

0.005 % of current range

(18-bit, 5 fA on 100 pA range)

0.0025% of 10 mA range
Galvanostat (controlled current mode)
current ranges
1 nA to 10 mA (8 ranges)
applied dc-current
±6 times applied current range
applied dc-current resolution
0.0076% of applied current range (<10 mA)
0.0038% of 10 mA range
applied dc-current accuracy
< 0.2% of current
±10 pA ±0.1% of range
potential ranges
10 mV, 100 mV, 1 V
measured dc-potential resolution
78.13 μV at ±10 V
7.813 μV at ±1 V
0.7813 μV at ±0.1 V
measured dc-potential accuracy
≤ 0.05% or ±1 mV (for |E| < ±9 V)
≤ 0.2% (for |E| ≥ ±9 V)
FRA / EIS (impedance measurements)
 Configuration
PS4.F0.##
PS4.F1.##
frequency range
10 μHz to 100 kHz
10 μHz to 1 MHz
ac-amplitude range
1 mV to 0.25 V rms, or 0.7 V p-p
GEIS (galvanostatic impedance measurements)
frequency range
10 μHz to 100 kHz
ac-amplitude range
0.001 x CR to 0.4 x CR (<10 mA)
0.001 x CR to 0.2 x CR (10 mA)
(CR = current range)
Electrometer
electrometer amplifier input
> 1 TΩ // 10 pF
bandwidth
1 MHz
Other
housing
aluminium with rubber sleeve: 15.7 x 9.7 x 3.5 cm3
weight
+/- 500 g
temperature range
0 ºC to + 50 ºC
power supply
USB or internal LiPo battery
communication
USB and Bluetooth (Dual Mode)
battery time
> 16 hours idle time
> 4 hours with cell on at max. current
extendable by means of power bank
internal storage space
8 GB
or +/- 800000 measurements incl. method info (assuming 200 data points per measurement)
Auxiliary port (D-Sub 15)
analog input
±10 V, 18-bit
analog output
0-10 V, 12 bit (1 kOhm output impedance)
4 digital outputs
0-5 V
1 digital input
0-5 V
i-out and E-out
raw output of current and potential
E-out ±10 V (1 kOhm output impedance)
i-out ±6 V (1 kOhm output impedance)
power
5 V output (max. 150 mA)
EIS Accuracy Contour Plot
Software
PSTrace
PSTrace for Windows provides support for all techniques and device functionalities. With a smooth simple interface, showing only the applicable controls, PSTrace is suitable for all levels of user experience. Functions include:
Direct validation of method parameters
Equivalent Circuit Fitting
Automated peak search
Scripting for running an automated sequence of measurements
Open data in Origin and Excel with one click of a button
Browse measurements on PalmSens4's internal storage
More information about PSTrace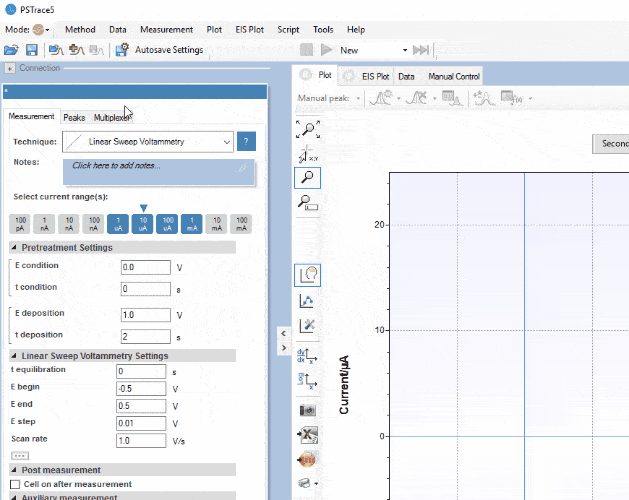 PStouch
PStouch works with all our single channel and multiplexed instruments. PStouch functions include:
Setting up and running measurements
Analysing and manipulating peaks
Sharing data directly via e-mail, Dropbox, or any other file sharing service
All files compatible with PSTrace
More information about PStouch
Software Development Kits
The PalmSens Software Development Kits (SDKs) for .NET can be used with any of our instruments or OEM potentiostat modules to develop your own software. The SDK's come with a set of examples that shows how to use the libraries.
PalmSens SDKs with examples are available for the following .NET Frameworks:
WinForms
WPF
Xamarin (for Android)
More information about SDKs for .NET