EmStat Pico Development Kit
Proven, tested and calibrated dual-channel potentiostat kit
Enables rapid prototyping, no programming skills needed
Run measurements conveniently in PSTrace for Windows
Connect via Bluetooth with iOS or Android phones and tablets
Used by 100+ OEM customers
In stock, ready for shipment next day
Description
The EmStat Pico Development kit is equipped with a proven, tested and calibrated potentiostat module which enables rapid prototyping, no programming skills are needed. With our free-to-use software PSTrace you can perform electrochemical measurements using your own electrochemical sensor. PSTrace generates MethodSCRIPT to easily reproduce your experiments on our Market-Ready OEM instruments, or on your custom PCB. Our tested and calibrated modules are used by over 100+ OEM customers in over 30 countries.
Kick-start your EmStat Pico-powered application with the EmStat Pico Development Kit.
Connect and power via USB
Run measurements conveniently in PSTrace for Windows
Generate MethodSCRIPTTM  in PSTrace for use in your own code
Connect via Bluetooth with (iOS / Apple) or Android phones and tablets
Use the EmStat Pico seamless with your own software/app / Arduino or other microcontroller
Use one of our many code examples
The EmStat Pico module and EmStat Pico Development Kit are also available on Arrow and Digi-Key.
Specifications
See EmStat Pico module for specifications of the EmStat Pico potentiostat module.
The EmStat Pico Development Kit includes:
EmStat Pico Development Board with EmStat Pico Module
Standard sensor cable with 2 mm banana pins and croc clips
Micro-USB cable
Dummy cell for evaluation purposes
8 GB SD Card
Screen Printed Electrode (SPE) adapter/connector
Quick Start document
Card showing an overview of the development pcb
Activation code card for registering on my.palmsens.com
Main specifications of EmStat Pico Development Board
Dimensions
90 x 65 mm
Power
(Micro) USB or 2x AAA battery
Main connections
– BT900 Bluetooth module Bluetooth v4.0 dual mode (BT and BLE)
– Micro-USB
Cell connections
screw terminals (2.54 mm pitch) and LEMO (EPG.0B.305.HLN)
Arduino compatibility
Footprint for Arduino MKR series
Storage
 8 GB Micro SD card
Real Time Clock

On-board IC: S-35390A-T8T1G


With CR1225 3V coin cell battery compartment (battery not included)
Buttons
4 buttons for:
– EmStat Pico Reset
– EmStat Pico Download
– EmStat Pico Wake
– Bluetooth Module reset
DIP switches
DIP switches for:
– Power input select
– EmStat Pico UART select
– Bluetooth module UART select
– EmStat Pico I2C Master select
Software Development
Develop software for PC, smartphone or microcontroller
Whether you want to write a simple or advanced Windows application, develop an Android or iPhone app or integrate the EmStat Pico in your own hardware, you can do it with our software development tools and code examples.
The EmStat Pico Development Board can also be controlled directly with our PSTrace software for Windows and PStouch app for Android.
Overview of software development tools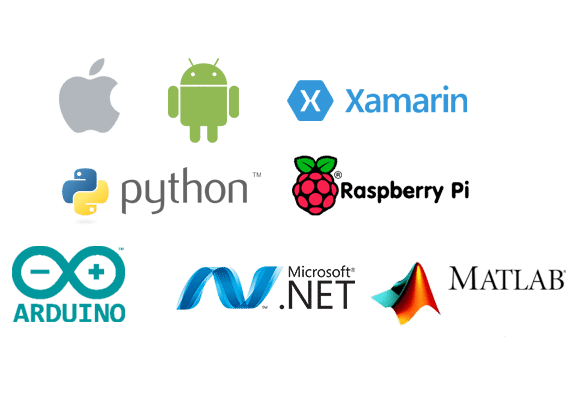 Software Development Kits for .NET
The PalmSens Software Development Kits (SDKs) for .NET can be used with any of our instruments or OEM potentiostat modules to develop your own software. The SDK's come with a set of examples that shows how to use the libraries.
PalmSens SDKs with examples are available for the following .NET Frameworks:
WinForms
WPF
Xamarin (for Android)
UWP
SDKs for .NET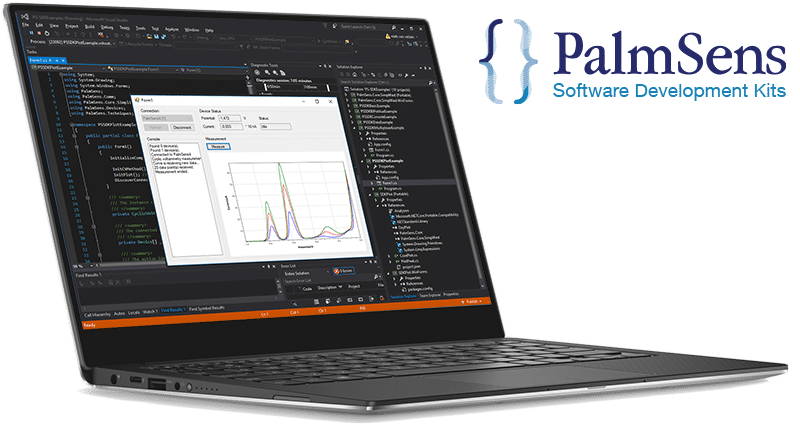 MethodSCRIPT™ communications protocol
The EmStat Pico potentiostat module has an on-board parser for the MethodSCRIPT™ scripting language. This language allows developers to program a human-readable script for the EmStat Pico module on any platform or operating system. The simple script language allows for running electrochemical techniques supported by EmStat Pico and makes it easy to combine different measurements and other tasks.

More information about MethodSCRIPT